H&M Gains as Retailer Shows Early Progress Toward Turnaround
---
Originally published on bloomberg.com
Hennes & Mauritz AB surged after the struggling Swedish clothing retailer showed progress coping with a buildup of unsold garments, raising hopes that the worst may be over after a three-year slump in earnings.
Inventory dropped slightly as a proportion of sales, easing to 18.2% at the end of May from a record 18.9% as of last August, H&M said Thursday. Chief Executive Officer Karl-Johan Persson said H&M still aims to boost operating profit this year. The stock rose as much as 11% Thursday in Stockholm.
A pickup in revenue growth at the start of the third quarter, helped by a heat wave in Europe, is boosting optimism that the retailer may have returned to a level of sales growth that could gradually put the inventory issue behind it. H&M pledged to reduce discounts for a fourth consecutive quarter as it aims to reduce its 40-billion kronor ($4.5 billion) buildup of unsold garments.
Analysts pointed to the June revenue growth of 12% as the trigger for the share gain. The stock can be volatile because short sellers have targeted H&M, betting against almost a fifth of the freely traded shares.
Better Composition
The retailer said that the composition of inventory has improved, implying it will become easier to sell the garments. The family-controlled company has a goal of eventually reducing stock-in-trade to 12% to 14% of sales, a level last seen three years ago. When asked in an interview if that could take four of five years, CEO Persson said it should be less than that, saying he's "confident" H&M is heading in the right direction.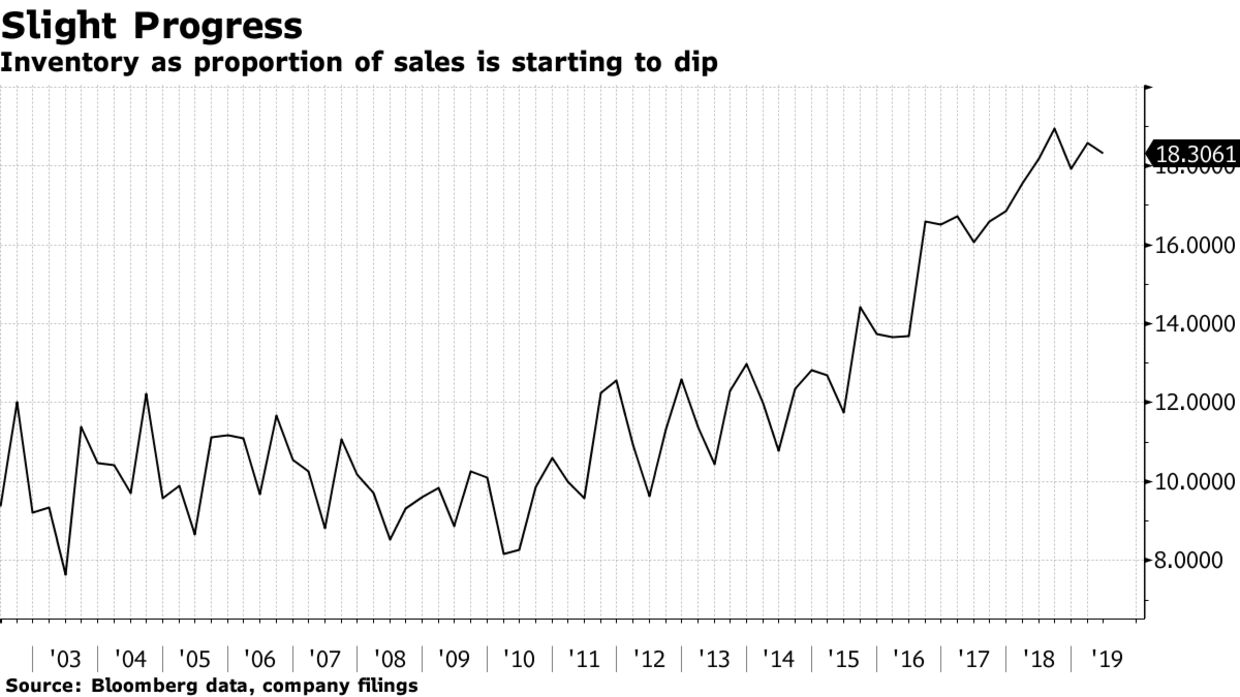 The company has recently been offering discounts of up to half off on summer clothes, offering $1.99 camisole tops, $25.99 faux leather biker jackets and skinny jeans for $8.99.
H&M also cut this year's store expansion plan by 26% while pledging more investment in e-commerce. H&M now expects 130 net store openings, further decelerating from a rate that exceeded 400 in recent years. Most of the new H&M shops will be outside of Europe and the U.S. as the retailer seeks faster-growing markets.
H&M has been plowing investment into e-commerce, adding online sales in Mexico, Thailand, Indonesia and Egypt this year.
The Swedish retailer is trying to catch up after Zara owner Inditex SA made it possible to order clothes from its chains from virtually anywhere in the world. H&M's e-commerce reach extends to about 48 markets.
Inditex has forecast sales growth of 4% to 6% this year on a like-for-like basis as the Spanish retailer outperforms rivals such as Gap Inc.
H&M is also trying to catch up with Inditex's lead in RFID, a technology that allows retailers to track the location of clothes in stores and warehouses to boost efficiency. The Swedish retailer said it now uses RFID in 15 markets. Zara uses it in all its stores.
The Swedish retailer said it plans to launch H&M on Indian e-commerce platform Myntra and its & Other Stories chain on China's Tmall by this autumn.
H&M warned that the weak krona is still pushing up buying costs as the retailer buys the bulk of its garments in Asia, where prices are linked to dollars. The krona was on average about 10% weaker against the dollar in the second quarter.
Pretax profit dropped 1.3% in the three months through May, missing analysts' estimates and declining an eighth consecutive quarter.